Banqup allows you to import and receive invoices directly into your account. That doesn't mean everything that enters your account is necessarily meant to be imported and forwarded to your accountant.
You can keep control over what comes into your account and decide which invoices are rightful and which aren't before moving forward to your accountant.
Table of contents:

No matter how an invoice got to your Banqup account, after going through the data recognition service (OCR), each invoice appears in the Accounts Payable menu with the 'To Accept' status.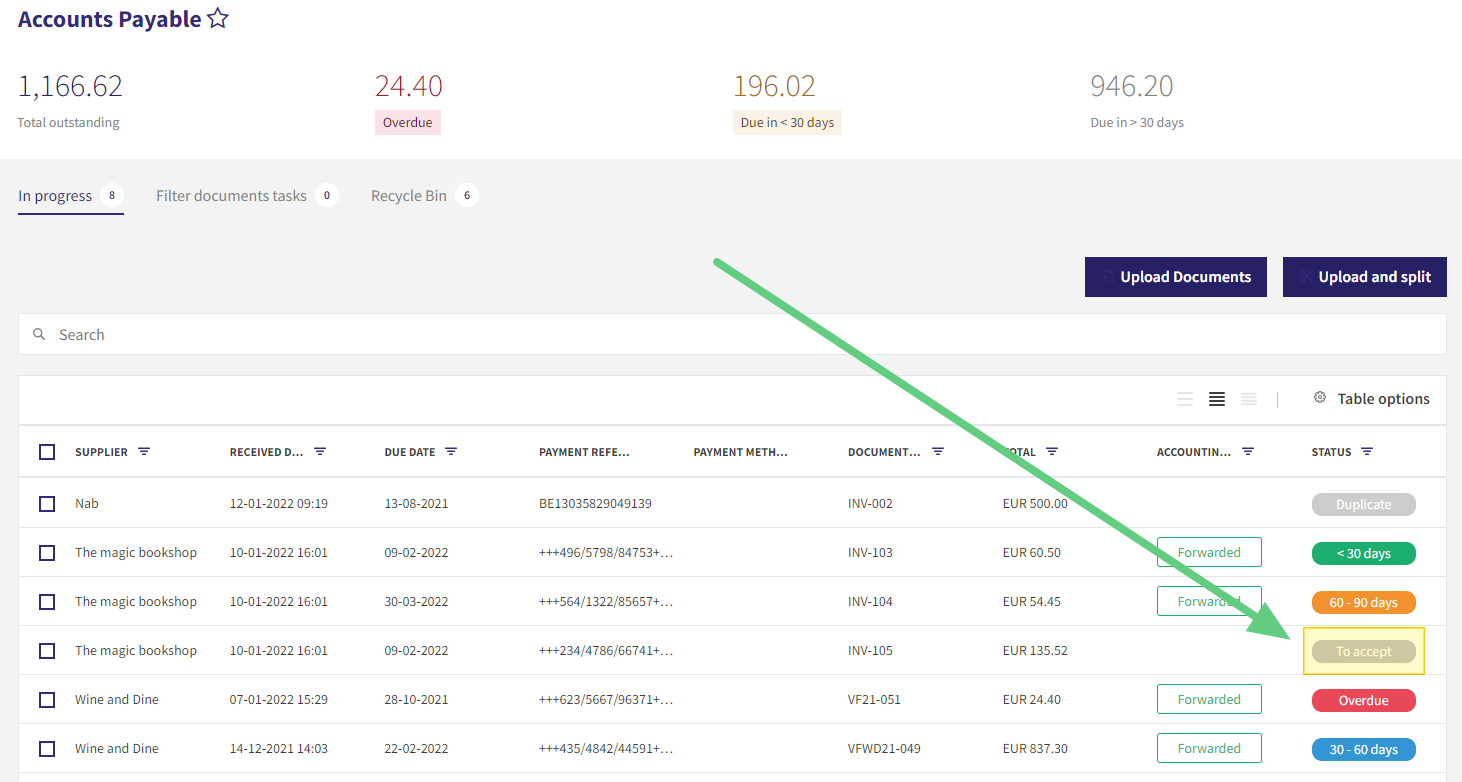 Defining how an invoice gets accepted by default
You can define how an invoice is accepted before moving forward to your accountant.

To do this:
Go to your Settings
Inbound

Under the Accept setting, choose how inbound invoices will be accepted



Manual: each document needs to be approved manually by a user
Trusted: invoices coming from suppliers that are marked as trusted (in the supplier's file) will be accepted automatically
Automatic: all documents imported will be approved automatically

Note: from here, you can also turn on the identification of duplicates, block their archiving, and automatically accept documents from whitelisted e-mail addresses. To whitelist email addresses, type them in the box and separate each email with a comma.
How to accept or refuse a document manually
To accept or reject a document manually, go to the Accounts Payable menu.
Then you've got 2 options:
Accepting one or multiple invoices at once

When you go to your list of accounts payable, all you have to do is select the documents you want to accept (by checking the box as shown in #1 the picture below) and then click on the Accept button (as shown in #2 below).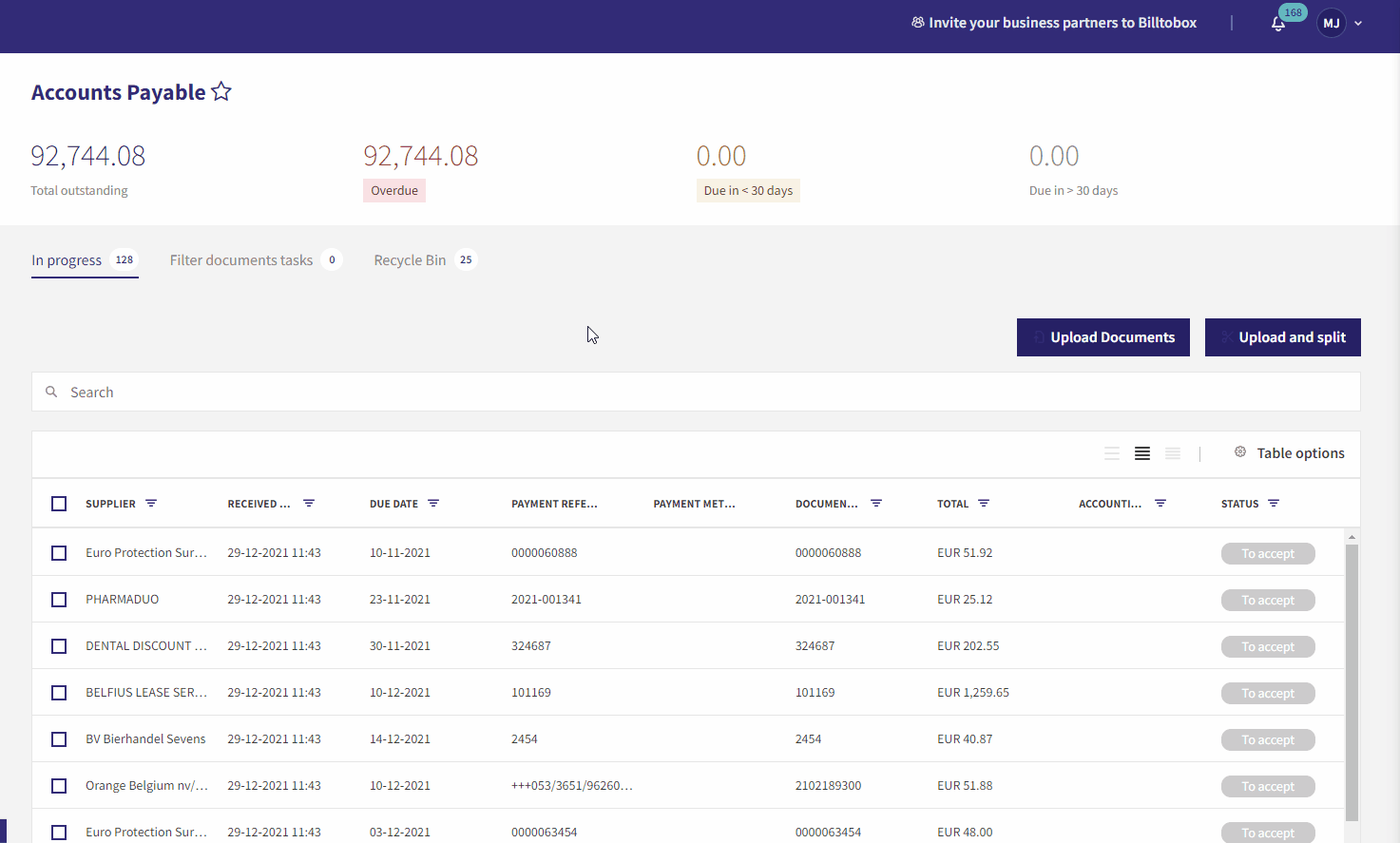 Accepting a single invoice from its details page

From the in-progress list, click on the invoice you want to accept. Once on the details page, you can accept or refuse the invoice thanks to the buttons above the invoice's data.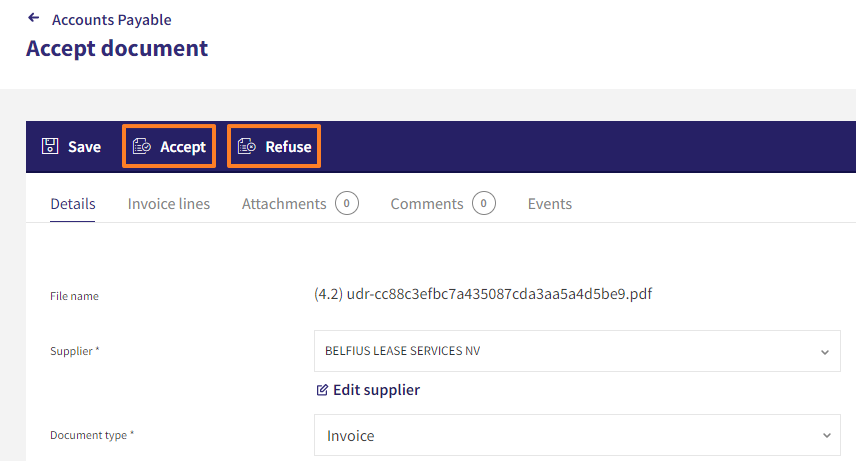 A message confirms that your documents have been accepted and you'll also be notified if anything goes wrong.
Once accepted, the invoice's status changes from "To accept" to a status indicating how long before the invoice is due. The invoice is archived as soon as you accept it.
Warning! Accepting an invoice won't be possible unless all metadata has been filled in first. If some data is missing, please fill it in manually.
How to refuse an invoice
When refusing an invoice a window will appear and you'll be able to indicate why you refused the invoice (optional).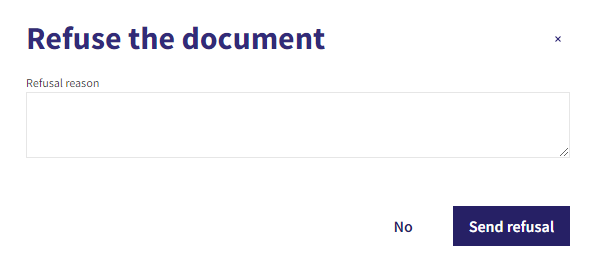 Note: for documents received via e-mail, 2 checkboxes appear:
to let your supplier know through an email that you've refused the invoice and why.
to blacklist this email address and prevent it from sending any other invoice to your Banqup account. Anything sent by a blacklisted email address will go straight to the recycle bin.
Important: only accept invoices that are legitimate because once accepted, an invoice is automatically forwarded to your accountant and you won't be able to undo this action.
How to restore an invoice that was refused
If you've refused an invoice by mistake, you can restore it from the Recycle bin tab by clicking the restore button.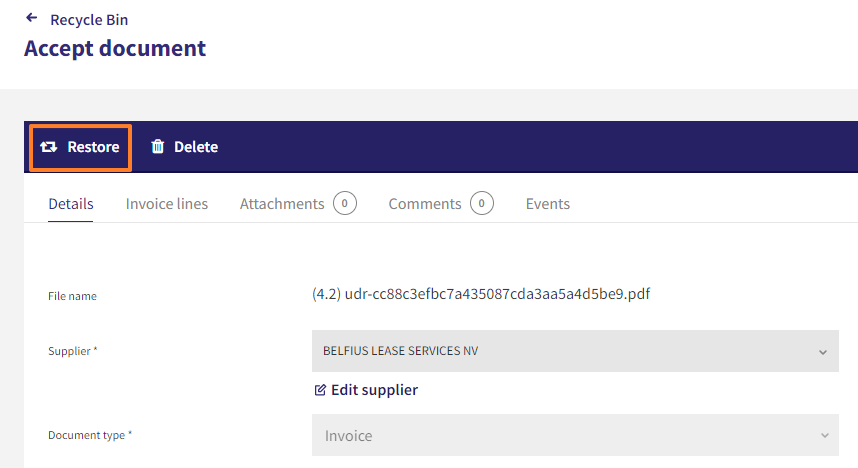 Once restored, the invoice will appear in the In progress tab again.